I can surely say that Morg is a special human. Why? Because Morg Armeni is an artist, before than a tattooist. Don't misunderstand me, but nowadays many tattooists are tattooists just because they tattoo. This doesn't mean they put their soul in what they do. An artist does. That's why I am really grateful to have met Morg and chosen her for my first tattoo. I hope you will find her strong passion for job, art and life, as much as I do. Here is my interview with her for Things&Ink Blog.
Your style is very traditional but you have put your own stamp on the genre, did you choose to tattoo in this way or did it choose you?
It's nice to think that 'he' chose me, and it can be true, in some ways. I love to put my own sort on magic into the tattoos I do. I actually use symbols that are familiar to me, coming from art, my musical background, and everything I like. Then I recreate an image that conceptually can be interpreted in various ways.
I like to imagine an idea, but also its opposite, both in colours and shapes. The contrasts are what make the difference.
When did you fall in love with art and tattoos? 
Since I was very small, even in kindergarten, my grandfather used to take me to Staglieno (a monumental cemetery in Genova). I could stay there for hours, I was fascinated by those beautiful statues and bas-reliefs.
I started drawing when I was 12-years-old, and I went to see my first exhibition, well the first I chose to see, which was Dalí After that I fell even more in love with art. At art school, in addition to learning the techniques of drawing, I studied the history of art and I loved ancient and medieval art. My love for tattoos was born from a fascination with the mystery and the underground scene in the 80s. All my musical idols were tattooed, and it was also thanks to them that I wanted to be tattooed.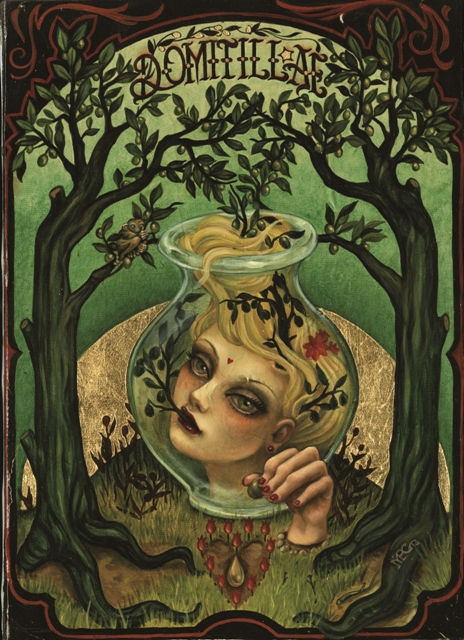 It seems like you have a sixth sense when you are about to create something for your clients, you always find the best way to draw any subject. What  are your methods for researching and creating a tattoo? 
I try to get to know the client first and understand how I can translate their idea into a tattoo.  I prepare a first drawing and then I simplify it, sometimes I also use photographs as references to edit my subjects. Often people are attracted to my imagination, and I think I accurately transform what a clients wants into a drawing.I like it when they trust my interpretation and my style of art.
Do tattoos leave a mark on your life, as much as on the client's ?
Yes, of course! I put a lot of love into the creation of the subjects I tattoo. Often my customers and I reach a sort of harmony during the tattooing process and ritual which creates very positive vibrations that resurface when I happen to see them again.
There are many differences between your paintings and your tattoos. Can you tell us the main ones? 
The main differences are the canvas and the techniques. I have to consider that the skin changes and ages, and that my customers will have my tattoos forever on their skin. With regard to the tattoo, I try to make sure that the subject represents and fits the wearer. I play with the customer's ideas until the concept becomes a workable tattoo. That's why I love sharp lines and contrasts.
In painting, I am definitely more surreal and visionary. For instance, I love micro realistic details for my paintings, but you won't see many of them in my tattoos. I am in constant evolution in both fields, and both have my dedication.
You have some really amazing pieces (by Rob Admiraal and Rudy Fritsch, just to name a few). Who else have you been tattooed by? Who do you plan to get tattooed by in the future?
I'm very proud of my tattoos and they make me happy, and these two guys you mentioned have been among the greatest inspiration I have had.
I also have pieces by Amanda Toy, Monga, Angelique Houtkamp and many others! I have a lot of talented friends from whom I would like to be tattooed by.
The list never ends!
I am still so in love with the artwork you created that was exhibited at Somerset House. Can you tell us more about the whole process?
I was excited when I got asked to contribute to this great event! I gave it my all to create something worthy of a museum like Somerset House.
It took me a month to decide what to paint, but it came to me in a dream and I created Flora's clock. It really exists and is composed of different species of flowers, from all around the world, that open or close at a given time, so the flowers can be used like a clock to tell the time. The painting represents time, seasons, beauty, inner growth and realization of what we are, in the here and in the now.
Now I am also focused on some new paintings that will be exhibited in March at my solo show in Rome.
Can you tell us why you decided to close your own studio in Genova? 
I let go a part of my life, yes. I closed my studio because I wanted to change, taking off a bit of bureaucracy, only dedicating myself to art and creation.
I will surely do some guest spots in London and in Milan, (Milano City Ink and Oink Farm) and now I'm living in Rome and guesting in some great studios.
And finally do you have any personal advice for our readers?
I highly recommend to people, and also to myself, to spread positive feelings, as much as possible! So that we can change and affect more and more the reality around us and to improve the world in which we all live. It's hard work but we can do it!