I chatted to Italian tattoo artist Viola Von Hell, also known as Violeta Pilarbea, about her collective exhibition Nero – the flexibility of black on Things and Ink blog…
Viola Von Hell, also known as Violeta Pilar Bea, is a tattoo artist based at The Ten Bells Tattoo, in Rome. She has travelled around the world and, through her art, has met many other talented artists. Her collective exhibition, which opened at Parione9 in Rome at the beginning of May 2016, is the result of her ideas connected to other minds.
Nero is the Italian word for black, and it's the main protagonist of this art show (on until the 29th May). Black tattoos, black skin, black thoughts… Black is more and more present in modern tattooing, and that's why I chatted with her about this project.
How and when was the idea of this exhibition: 'Nero – the flexibility of black' born? I thought about the idea almost one year ago, while I was thinking about the tattoo world changes in a stylistic context. I realised the use of heavy black was starting to become more of a thing, and I saw artists with different skills experimenting more and more. And then I said to myself, why not document this new moment of the tattoo world? Besides the fact that I love to organise exhibitions.
What is the subjective intention at the centre of this collection of artworks? The intent is to let different ideas circulate and give people the chance to gather information about them. And also to build cohesion among the artists of the collective, to create creative groups in our world, a place that is already too full of ego and individualism.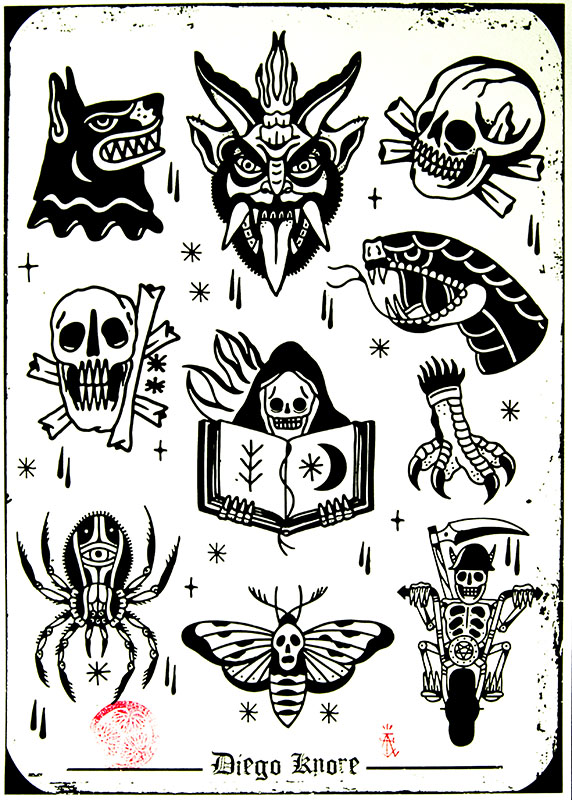 Did you know the artists personally, or you were guided by your own instinct? They are all friends of mine, people I've known personally for years and I respect a lot. With Stefy, besides being great friends, we had already collaborated on another exhibition called 'Sante Peccatrici' (Holy Sinners).
Do you think it's right to set limits on art (perhaps to guide the observer) or is it better to give free interpretation? I think the limits always need to be crossed. I usually like to leave complete freedom to the artists so that I an be surprised by their skills.
What are your thoughts about modern-day tattoo art? My thought on this issue is actually very sad, I was very disappointed by the attitude of some colleagues over the years… Fortunately there are also many very valid people, and I am also referring to the younger generations. I hope that the ego can be swept away, and that human relations that govern this world can win, and create better things.
Artists involved in Nero – the flexibility of black:
Kike Bugni, Cionka, Crez, Dane, Rafel Delalande, Aron Dubois, Alessandro Florio, Manee Friday, Massimo Gurnari, Horiyen, Kelu, Diego Knore, Michele L'Abbate, Manekistefy, Rio, Pietro Sedda, Viola Von Hell, Brian Thomas Wilson, John Wilson.