I interviewed Cristina and Ashley for Things&Ink Blog. The couple share their work, relationship and hopes for the future in this intimate interview… 
How would you introduce your other half to our readers?
Cris: Ashley is an undeniably talented tattoo artist and painter with deep, intelligent eyes and a kind soul. He is gentle but fearless, patient but constantly curious, handsome and brave. He's also really sweet while having a certain kind of dark side about him, a particular combination of pluses and minuses that makes us similar, and that I believe brought us (and keeps us) together. He's my space captain, my everything.
Ash: My own personal muse. An equally beautiful and intelligent woman with her head and heart in the right place. Cristina's curiosity and quest for knowledge and adventure are on par with my own. My soul mate. She's a jack of all trades, easily picking up new hobbies and making rad new things. Most people would say, "oh, she's that babe on the cover of all those tattoo magazines." They aren't wrong, but there's many more layers of awesome tucked away in this one.
Traveling is part of your lives, is it a stimulus that enriches you, or a taxing, tiresome experience?
Cris: It can be both enriching and exhausting, but the highs are much higher than the lows. There is this famous Bill Murray quote that goes something along the lines of
"if you think you met The One, don't just date and get married. Buy a plane ticket and travel the world, in places that are hard to go to and get out of. If you're still in love when you come back, then you know you found the one" and I couldn't agree more.
I am seeing the world with the one I love. I am sharing every memory, every moment. I'm an only child so being alone was always a big part of my life. Now we can be alone together, and grow up together.
Ash: My wife crushed it. I can't say how many excellent humans we've met already in our travels and how many more we look forward to meeting.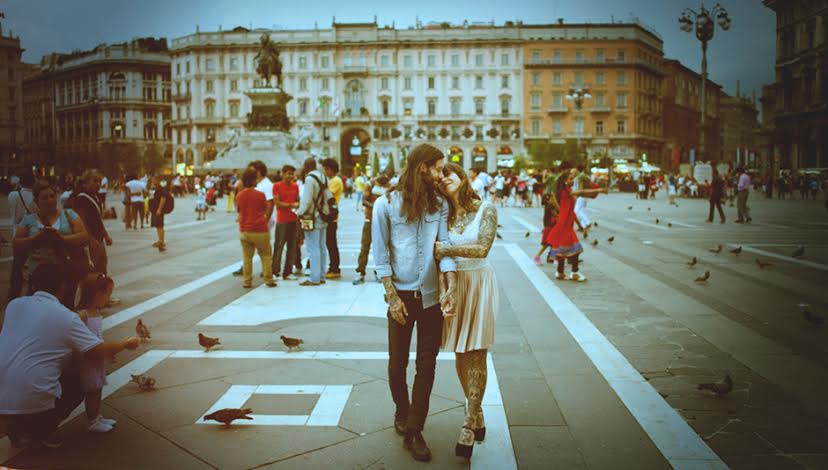 photo: Carlo Carletti | editing: Claudia Cosentino
Is your work your only passion, or do you have any future projects?
Cris: The great thing about making a living as an independent artist, is that every hobby and every passion can be a part of your work. Certainly this is much less secure than having a regular pay check, and is sometimes a risk, but I don't live to make money as an ultimate and absolute goal, because it's not money itself that was ever my passion. Each year my favorite part of my job is different. Right now, I am completely enamored with my hand embroideries of tattoo flash designs. Very few things make me happier than creating something with my hands.
Ash: Work definitely keeps us both busy. There's always ideas brewing in the back of my head but very often, after drawing designs for tattoos and making those tattoos, I'm shot. It's a very demanding craft both physically and mentally.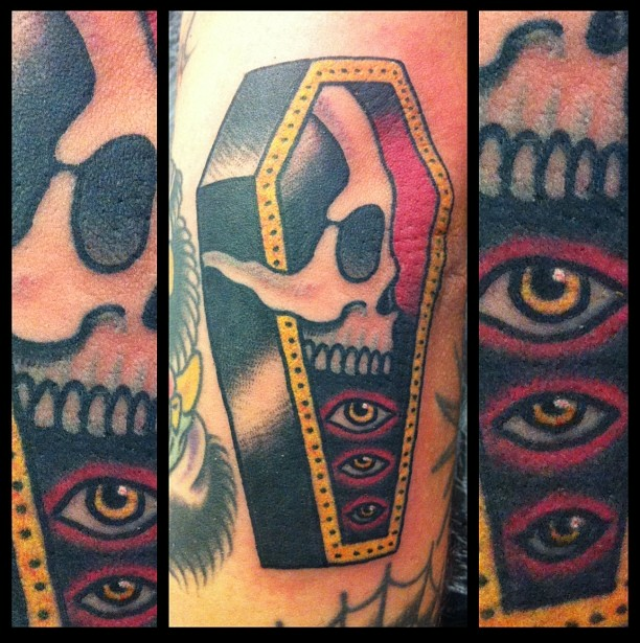 Tattoo by Ashley
Is there a correlation between tattoos and sentiment?
Cris: I would say so.  I don't think that the subject of a tattoo necessarily has to signify something sentimentally relevant, in fact I have very few tattoos like that. I prefer to get inspired by a vague idea of something I like, and then bring it to a particular tattooer and let them interpret it in their own way. At the same time, the more time goes by the more each tattoo reminds me of a particular moment in time.
Ash: Certainly each tattoo contains sentimental value; I don't have names, dates, or memorial tattoos on myself, but each tattoo most definitely has a memory attached to it. I can look at each of my tattoos and reminisce on numerous situations, cities and friends. I can see times of sadness, madness, and most importantly happiness that have sculpted me into the human that I am today.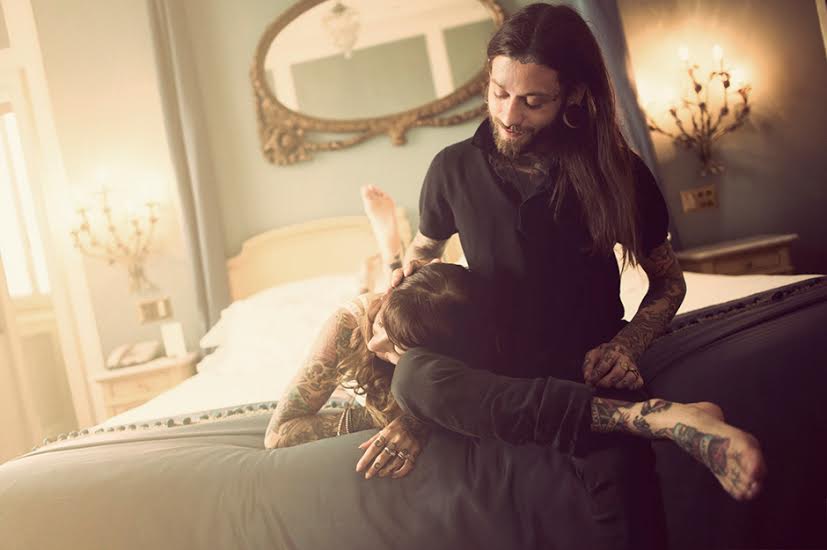 photo: Carlo Carletti | editing: Claudia Cosentino
To which of your (and his/hers) tattoos are you most attached to?
Cris:  I am most attached to the ones that I got out of love and friendship. As far as Ashley's tattoos, I am extremely fond of the ones on his torso. Perhaps because I'm not very tall so my gaze often falls on that area, or maybe it's because it makes me think of our closest moments.
Ash: I think on myself I have too many good ones to have a personal favourite. I could say which I hate my most, but I'll hold my tongue! Cristina has a bunch of really nice tattoos. I would say that the ones I did are my favourites.
Does your life together follow a specific style, or philosophy?
Cris: I guess because of how we look and what we do, we could easily fit the stylistic profile of others who live similar lives as us, but I tend to focus on the core of things, and in my head the only philosophy that matters is very simple: to experience everything, regret nothing, and to be decent, respectful people. To never intentionally hurt anyone, nor each other, nor ourselves. To love each other, and have fun together, and mostly never take anything too seriously. It's always a work in progress of course, but to me, that's really ALL there is to it.
Ash: She definitely speaks for both of us on this one.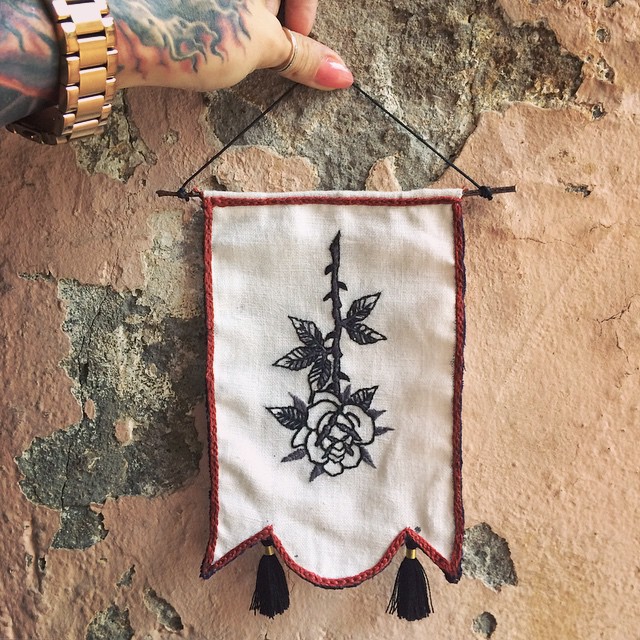 Embroidery by Cris 
What does "forever" mean to you?
Cris: I can't really grasp the concept of forever as an absolute, it's just too much to wrap my head around. I can have a very vague scientific understanding of it, but that's sort of irrelevant, in a way. In my very limited, relative to my life kind of way, I like to be a little bit of a romantic and think that love is forever.
Ash: F-O-R-E-V-E-R? I think it's the outside edge of our mental capacity to understand such a massive span of time. I feel like it's easier to think of it in a narcissistic way; as the span of time from birth to inevitably becoming worm food. This tiny window of time which holds every memory and interaction that will ever exist is your personal forever.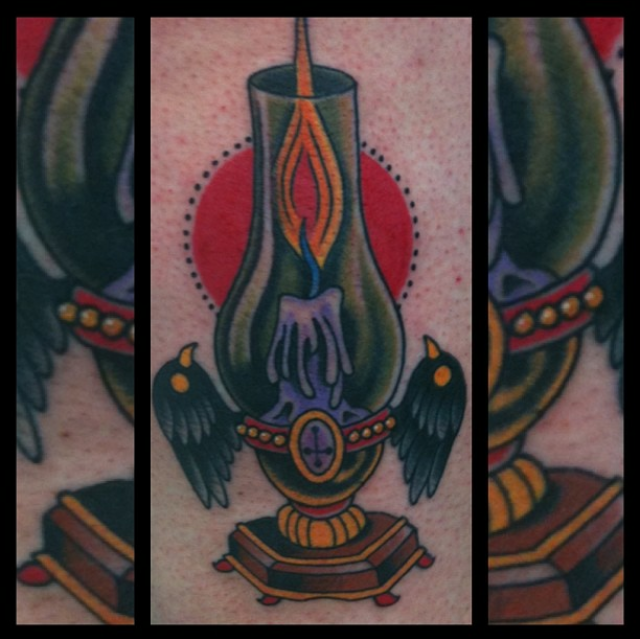 Tattoo by Ashley
Personally, I believe that everything that is made by hand (be it a tattoo, or an embroidery), captures the energy of its artist. Do you think this is possible?
Cris: I think it's absolutely possible. Perhaps I'm overly optimistic and positive about it, but to me, even when the work in question appears to be rushed and meaningless, a little bit of the soul of who made it is inevitably embedded in it.
Ash: I try my best to live up to that philosophy. Sometimes there's only so much of yourself that you can put into someone else's dream about their tattoo. After all, it is their tattoo. I'm mostly certainly up for this challenge each and every time.
Have you ever tattooed each other? If so, what was it?
Cris: I have a few tattoos that he did on me by now, and I love them all so much!  And I scribbled on his leg once, a few years ago: it's horrible of course, but it's a great memory of our first trip together.
Ash: I can happily say that I lost count. I really like to test myself when I tattoo Cristina.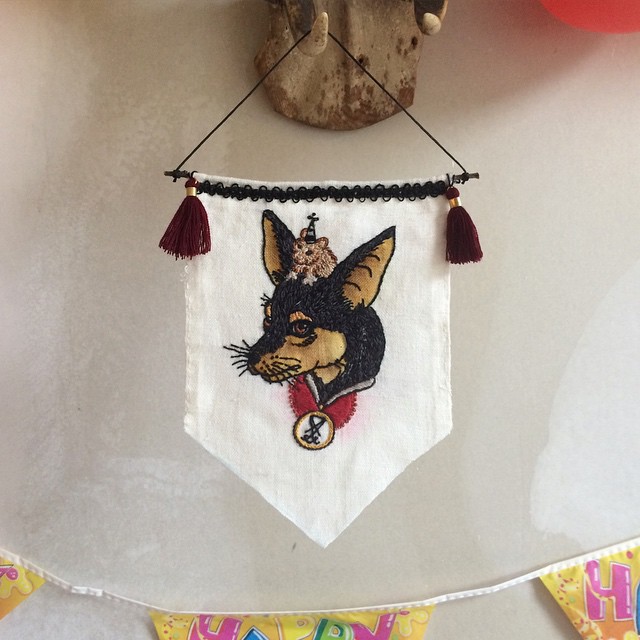 Embroidery by Cris