Alessandro Negrini a.k.a Pepe, an Italian tattoo artist resident at Electric Tattooing Viareggio, and his wife Romina have created a book titled Tattoo Portraits, in which his love and respect for the history of tattooing is displayed in beautiful watercolour. I interviewed Pepe for Things&Ink Blog.
When and how did you discover the art of tattoo?
It all began in Viareggio, in the early 90s. At that time it was none other than the holiday location where I spent my summer holidays with the family. This city, where I now work and live, represented anything an adolescent could ever imagine: there were sailors with tattoos, punks, metal music, skateboarding and surfing activities. Coming from a small town, all of this was very exciting to my eyes!
What do you think of modern society and its relationship with this art?
I think that this media overexposure has removed a sense of it all. You know, it's my job and I earn some money, but in these twenty years I have seen a complete twist from what was originally the world of tattoo.
When I started professionally in 1996 (at Skin Fantasies, Bergamo) tattoo was frowned upon, it was just an act of rebellion and nonconformity. Nowadays tattoos are on football players, on television and in glossy magazines. Today people get tattooed to join the mass, to be cool or to be accepted by the group. 15 or 20 years ago you couldn't even get into a local bar if you had tattoos in sight.
I mean, I do not want to be a rebel at any cost, but now getting a tattoo is like buying a nice shirt. What will happen when these people will want/will have to change their aesthetic tastes, as our mothers asked: "what will you do with those tattoos when you become old"?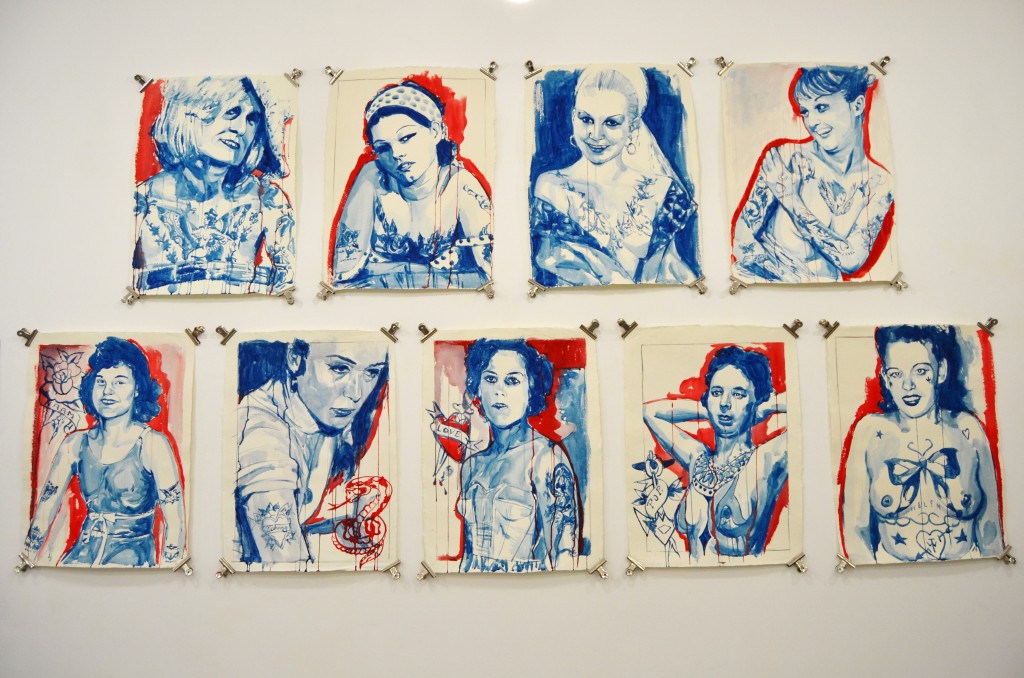 People you have portrayed are definitely a continuous inspiration for you, both in life and in work. Tell us more about your project!
My project came mainly from an urgency, a need that resided in my guts. My life has changed dramatically in the recent years thanks to the arrival of my son. I am sober for a year and a half and painting had a great therapeutic impact during this transformation. I portrayed the great masters of the past, who have founded the basics of our profession, those who were called "poor Rembrandts" in a world diametrically opposed to ours. After preparing a first set of watercolours, the project grew thanks to the meeting with my partner Romina, professional editor, who wrote our book Tattoo Portraits, she did amazing research regarding the biographies of these tattoo artists . The book is now published and distributed by Surith, Rome.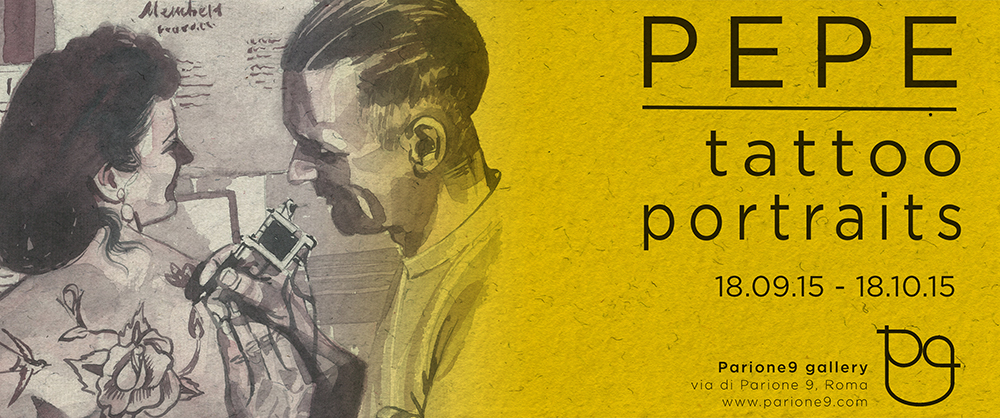 How did the mere fact of changing 'means of expression' and then to paint with watercolours make you feel?
The world of watercolour has always been present in my life. Even before tattoos, it came  with my love for comics and with them for adventure: Hugo Pratt was my favourite cartoonist and one of his peculiarities was that he decorated the first introductory pages of his books with beautiful watercolours.
Occasionally this passion came, went away and then came back again, like the water and the waves… I began to experiment with it during the years of art school and then used it only for entertainment in the evening or to rest after a day of hard work. The tattoo, as well as its exemplary drawings, what are called "tattoo flash", are characterized by an extremely rigid and schematic technique. You trace the outline, then the shadows and finally the color. There is no room for the unexpected. Everything is precise, programmed. Watercolour is the exact opposite, the water flows unpredictable on the sheet, the brush flies fast and the result is never predictable. After twenty years as a tattoo artist I felt the need to find all of this, to dissolve the hand to the emotions, letting myself go: into the unknown, the unexpected and the adventure from which I started.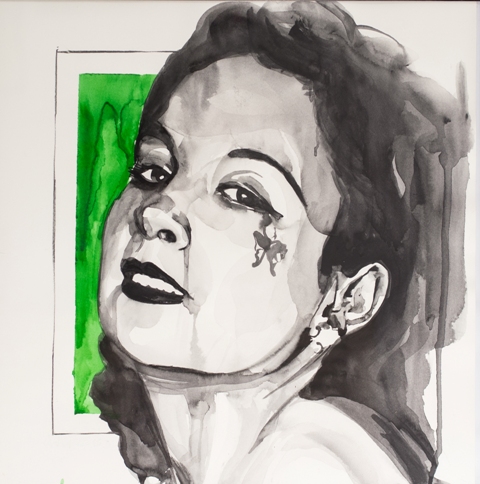 The history of the tattoo is, at least in my opinion, a part of each tattoo, be it big or small, done with great care.. The simple fact that the man is the mean by which this art continues to live and to be handed down from generation to generation is really beautiful. How important is for you the past and how it helped you to embark on your path?
The tattoo is first of all a sign, a gesture, a symbol. It marks the difference between what you were before and what you are after, like the difference between a donkey and a zebra. It may be little as the dot ​​marked between the index finger and thumb, symbol of love for Japanese geishas, or huge like the entire Polynesian bodies of people from Tahitian islands. The gesture is always the same, inserting a pigment (usually derived from coal) under the skin, through the use of different enforcement tools, from the shark tooth to the most modern rotary machines. The artist who now tattoos on television makes the same gesture that the primitive man performed in the caves during the Neolithic.
Ötzi, the man of Similaun, the oldest mummy found on the Earth, (dated from between 3300 and 3200 BC) is in fact also tattooed, and it is considered the first tattooed human being: on Ötzi body there are 61 tattoos!
I mean, you can not tattoo without knowing the history of tattooing.  Tattoo and mankind continue to intersect chronologically along the latitudes and longitudes of the whole world. The history of the electric tattoo begins in the late '800 with Samuel O'Reilly and reaches us, 'Tattoo Portraits', both in a book and with an exhibition, (currently on display at the gallery Parione9 in Rome). This project of mine aims to provide a tool to the new generations, to know and deepen the roots of the history of tattoo, as we know it today in the West. The 60 portraits that form the book, "tattooed faces" and "blue ladies", are just the beginning of a natural evolution through my new pictorial work of watercolors. It aims to tell and preserve some kind of a family album, a collection of images from a far away world, preserving through its pages the history and memory of us men and women, tattooed and tattoo artists of the 2000s.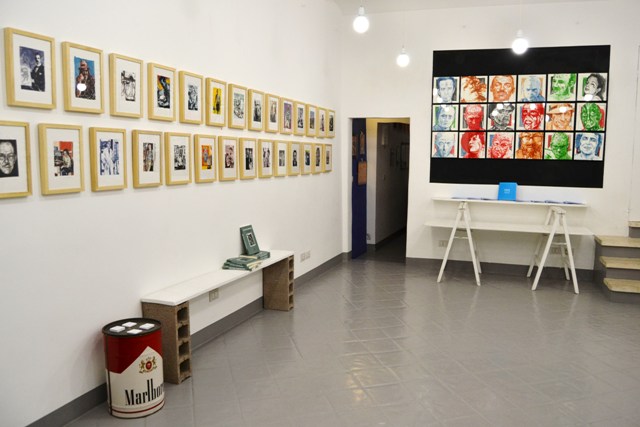 His artworks are now on display in Rome, at Parione9, a solo show curated by Elettra Bottazzi and Marta Bandini.
You can email Pepe at pepetattooing@hotmail.com to purchase the book, and follow him on Facebook to hear more news about his project.
Photos taken by Diana Bandini, Nicola Gnesi and Vasco Maria Livio.