I interviewed Yle Vinil, Italian tattoo artist who lives in Bergamo but works all around the world..for Things&Ink Blog!
Long eyelashes and red cheeks: these are two of the recognisable elements we can find both in her tattoos and in the artist herself! In this interview, Vinil talks about how it all began, revealing a more intimate view of her tattoo world, among Dolomites, childhood memories and bicycle rides!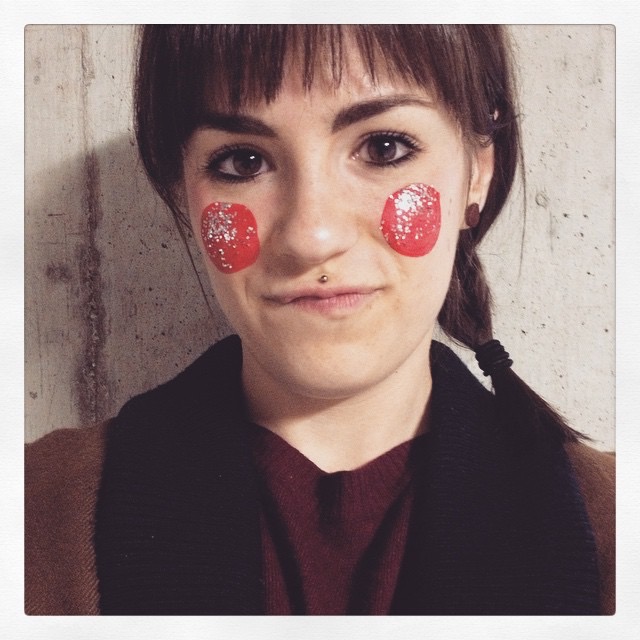 How did you get into the world of tattooing? Did you immediately know that it would become an integral part of your life or it was just part of a gradual process?
I basically entered on tiptoe. When I was 18 I got my first tattoo, to commemorate a person who was very important to me, and I had lost a few years before.
I actually had never been attracted to tattoos before, and I did not get tattooed to be cool or to look different, but just to have a memory.
From that moment on, I fell completely in love with tattoos and a few years later I joined a tattoo studio as an assistant.
Year after year, your style becomes even more recognisable. Do the emotions you feel when creating a design and then a tattoo, remain the same? 
Every time I undertake a new adventure, when I guest in a new studio, I always feel emotional. Travelling makes me savour the beauty of my work, separating me from the routines of life. I must admit that sometimes we forget, while creating a tattoo, that we are creating something more or less important to the customer and that will be forever on skin.
Have you always drawn characters, or have these developed over time?  
Like all the things, even my characters have their own story, and their birth occurred absolutely randomly. When I started tattooing I tattooed almost every kind of style, it's a typical thing in the beginning of any tattoo artist's career (or at least it should be).
One day, a friend who left a few years earlier to London, returned home for a short break, and he asked me to tattoo something on him. I gave him a little strapping man, because of the courage he had shown by moving abroad on his own. The character had a giant head and blue moustache. From that day on, people started asking me to tattoo in that style.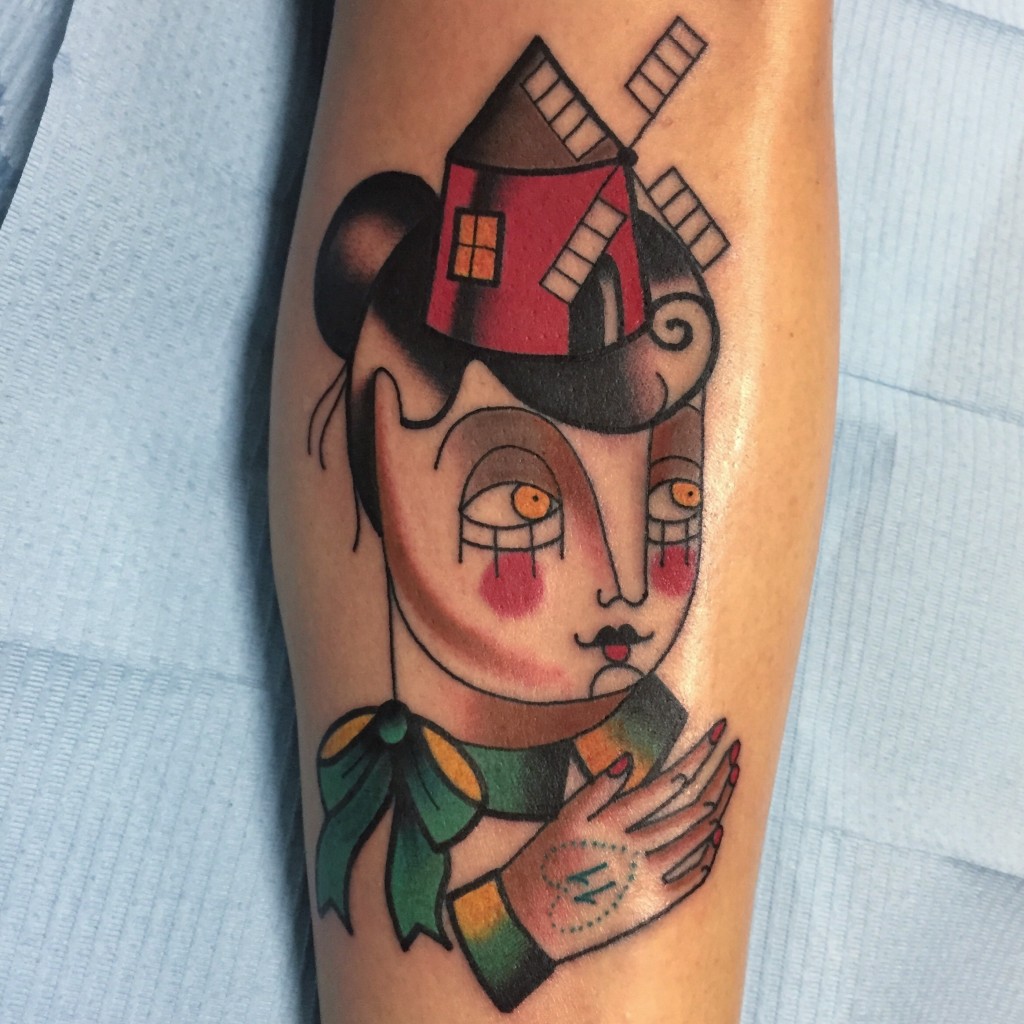 Who and what inspired you during your journey?
When you manage to find your own expressive channel of communication, you realise that in the end it's like drawing yourself. And what we are is what we see, what we love, what affects us. Certainly, in the early days, my striking inspiration was Amanda Toy.
I have always been attracted by illustrations for children and I think that this is in general what continues to inspire me a lot.
What makes a good tattoo and  what would you like to change?
The fixed point for a good tattoo is definitely the impact: not too many elements or too many details, I love the immediacy of a good tattoo and not too much confusion.
There is not a definite thing I would like to change: I am always looking for an evolution, that extra step.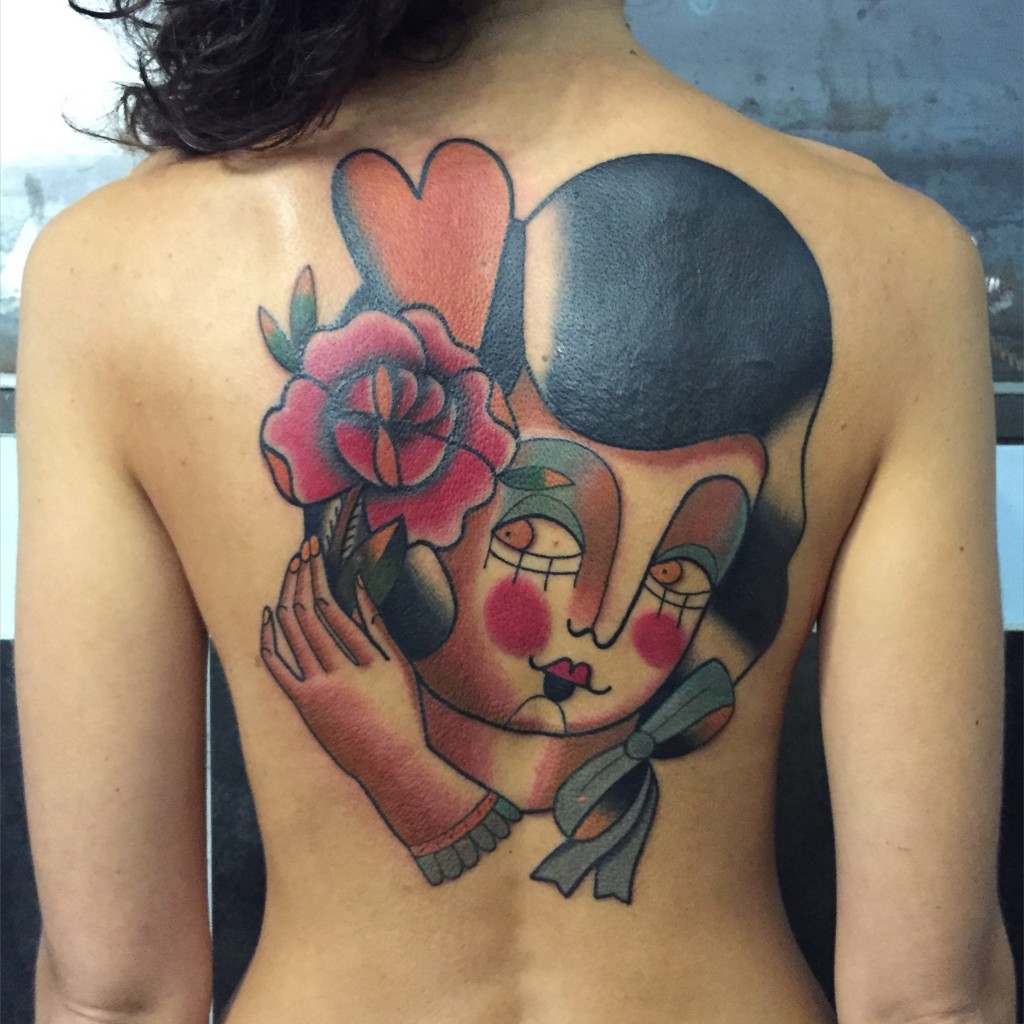 Following you on Instagram, I can see that you are a huge fan of cycling, mountains and strudel! Are these elements linked to your childhood? How would you define them? 
I am very passionate about mountains, and then also of strudel and cycling and elements in my life always link to them.
I have been following cycling activities with my father since I was little. While watching the Tour of Italy on the mountain stages, I always looked forward to the Dolomites, the places where I have always spent my holidays since I was born, and with whom I am linked with by a strong bond. There, I always find my peace, and these are places I like to call, quoting Tenco (Luigi Tenco), "my place in the world."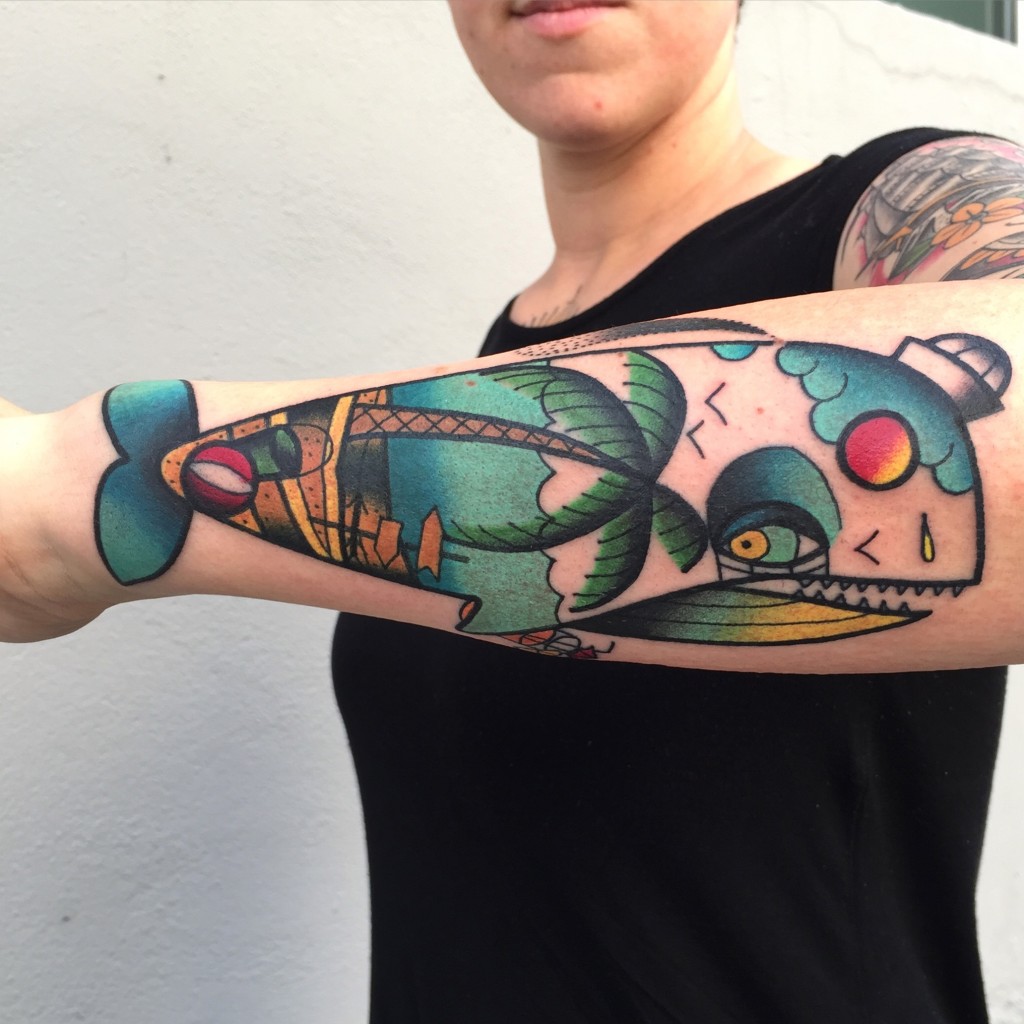 What aspects of your imagination do you draw upon when you create tattoos? 
I do not have a definition, I only know what I am not and that many people get confused when they see my work. To many my work is seen as fancy and fantastical. Like I created it with a mind full of unicorns, fairies and candy. Although I think there is a lot of sweetness in my work, I wouldn't class my style as fairytale-esque.
How do you like to work with your clients? And, most importantly, what is the stage of the process that absorbs you the most?
I always design at the time of the appointment, just before the tattoo session.
I love this approach because it is the most direct: I discuss directly with the client, I can understand what they want. The designing stage definitely absorbs me the most.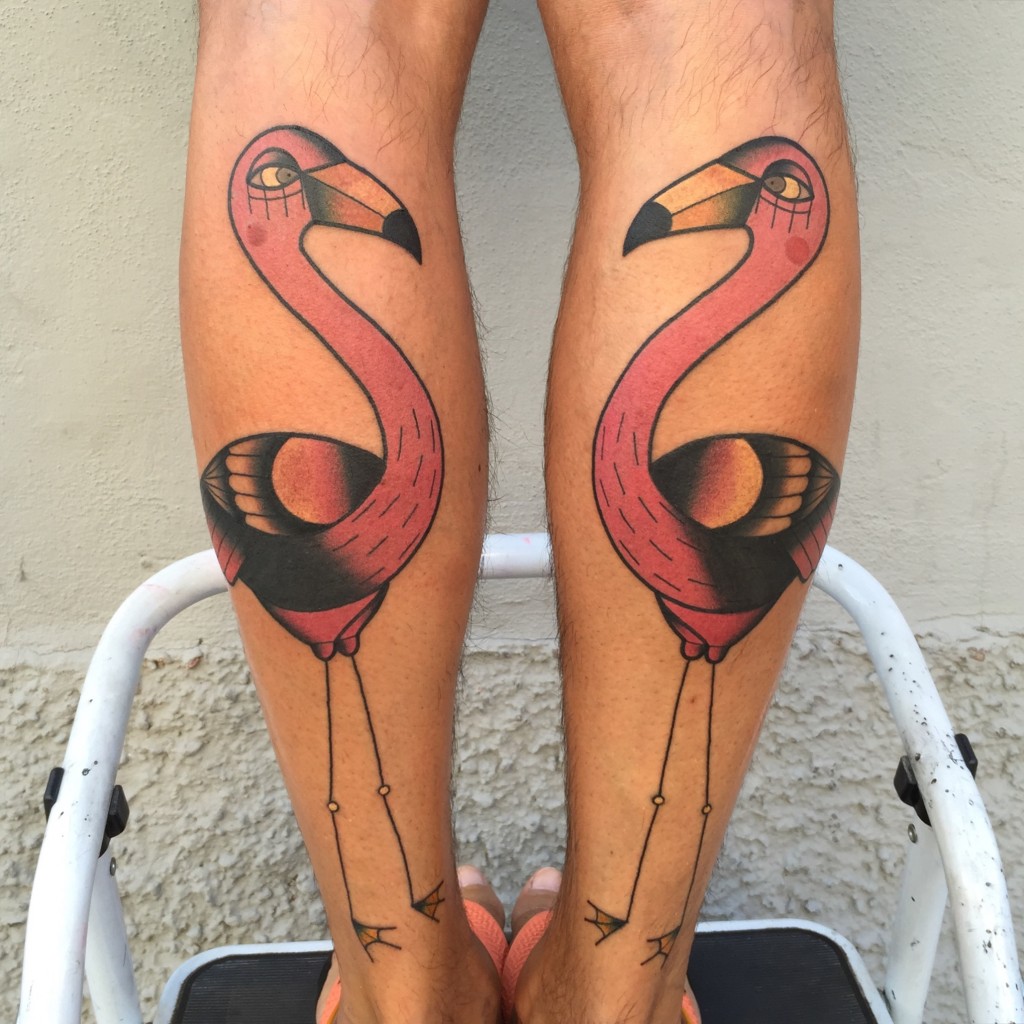 I heard you love to call yourself 'old inside' and you love the Italian singers of a few decades ago. Do you feel nostalgic toward an era that you could not live fully? Do you think this is reflected in your work?
Old inside is absolutely the perfect definition for me.
I think I have a bit retro/old fashioned taste, and I sometimes have a nostalgic aura about those golden years. The notion that I long for a world that I cannot live in definitely shines through my work.
Who have you been tattooed by over the years? 
I have had the fortune of getting tattooed by many tattoo artists, some became great friends: Gianni Orlandini, Nik The Rookie, Francesco Garbuggino, Marco Luzz, Pepe and Angelique Houtkamp.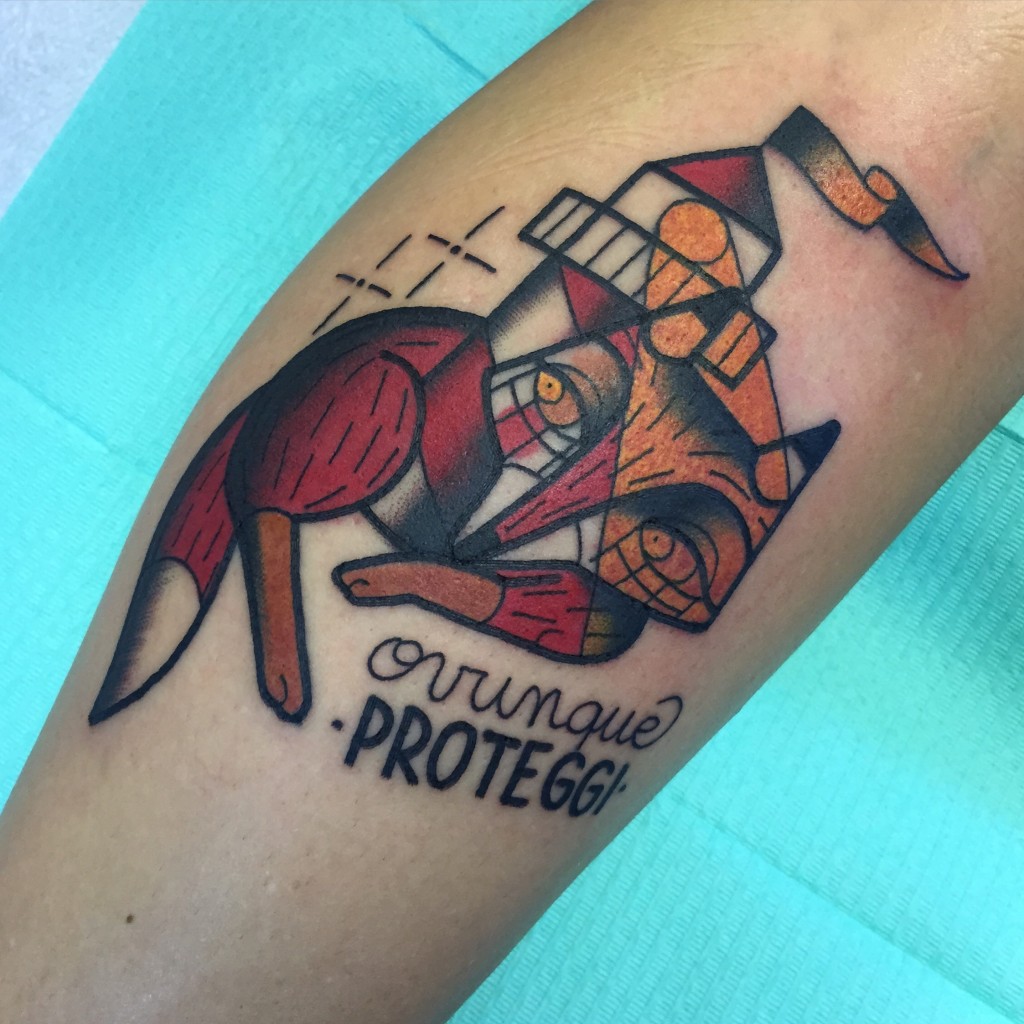 Are you planning any other guest spots?
I have scheduled some guest spots in Paris, Berlin and Moscow! And I hope to return to London with my friends at Cloak and Dagger tattoo shop.
Is there a particular subject you would like to tattoo?
There isn't a particular one. What I always hope is that in the proposals I receive there could be something I haven't done yet!